Affiliate Disclosure: As an Amazon Associate I earn from qualifying purchases.
For ages, health experts have warned that humans suffer many respiratory complications from toxins in the air. Smoke, aerosols, dust, pollen, bacteria, viruses, and many other airborne toxins that we take into our lungs cause pneumonia, asthma, bronchitis, influenza, and other diseases.
To reduce these contaminants, innovators have brought forth air purifiers like the Plasma ranges. Plasma air purifiers' design includes the latest globally, reducing the contaminants in a room at a higher percentage than the regular air filters.
The best plasma air purifiers include Instant, IVLWE, Azeus UV Light sanitizer, InvisiClean Claro air purifier, and Sharp Triple Action Plasmacluster.
Grab our guide and get more enlightened on this advanced technology. We will expound the facts about Plasma's air purification process and tell you why you should not hesitate to pick this air purifier.
What Is A Plasma Air purifier?
A Plasma air purifier is a unit that comes along with tiny filters that trap and eliminate particles of various contaminants from the air. The difference between a plasma air purifier and other air purifiers is that this model can trap what other filters might easily miss.
That means you can eliminate or reduce the bacteria, viruses, pollen, dust, and smoke from your environment with a plasma air purifier.
Plasma air purifiers emit negative and positive ions that pick and rejoin harmful particles together. The system traps and removes the formed compounds from the air.
This kind of air purification technology is an inexpensive way to improve your indoor air quality. Compared with other air purifiers, they are a cheaper solution as they need low maintenance.
Do Plasma Air Purifiers Work?
The air is filled with contaminants, including pollen, fungus, bacteria, smoke, dust, all not visible to our eyes. Respiratory issues like asthma, pneumonia, and bronchitis crop up and maim our vibrant lives whenever we breathe heavily contaminated air.
Fortunately, we can improve and make our air cleaner and healthier for our respiratory system. That is why innovators spend endless hours trying to come up with better versions of air purifiers.
Plasma air purifiers work perfectly for an indoor environment. There is no doubt that the system is one of the best air purifiers around.
A plasma air purifier works by picking and binding the tiniest contaminants in the air. The technology is more upscale than the regular filter. It works by creating natural negative oxygen ions that reat with the existing positive ions.
Whether plasma air purifiers work or not, let's determine that by popping into a science class. Scientifically, air purifiers work. They use compounds with positive and negative electrons. The positive ions have a missing electron, while the negative ions have an extra electron.
Positive ions result in an imbalanced environment, thus requiring rebalancing.  These have to seek out atoms and molecules in a bid to stabilize. In the process, they neutralize contaminants like dust, aerosols, gases, bacteria, and others. Although the process cannot be 100%, it leaves the air free from impurities.
Is It Safe To Use A  Plasma Air Purifier?
Globally, people are more conscious of using many appliances, especially air purifiers. Equally, most experts argue about the safety of air purifiers, including plasma ones. These gadgets are the latest air purification technologies.
As we expounded earlier, the unit uses ions in an HVAC system to capture the tiniest impurities in the air. It combines small filters and the ionization process to purify indoor air. As the air passes through the ionization tubes in the unit, the ions bind and reduce harmful compounds present in your room.
In turn, ions from the Plasma air purifier bond with the minute compounds and form bigger molecules. These larger molecules are easy to capture. They include bacteria, molds, pollen, odors, and other toxins.
Air purifiers that work through the ionization process produce ozone, a harmful substance that causes health complications in human beings. Plasma air purifiers belong to this category. Fortunately, experts have tested these models and say that the models do not generate ozone and are safe to use.
Comparison Table:

9 Best Plasma Air Purifier Reviews 2023
We have the nine best plasma air purifiers lined for you in this guide. Choose any of these and improve your living standard.
1. Nuwave Oxypure Large Area Smart Air Purifier: Best for Large Rooms
The NuWave OxyPure Large Area Smart Air Purifier uses plasma technology that combines advanced features to free your room from common contaminants. Its smart filter is perfect for large rooms up to 1000 sq ft, including living rooms,  conference rooms, and open-plan offices.
NuWave values safety, quality of life, trust, and dependability. Its Oxypure smart air purifier detects and kills bacteria within two hours. The air purifier works by wiping off deadly contaminants, different from how other air cleaners work.
Oxypure's revolutionary five-filter system is another feature you will find only in plasma air purifiers. That includes an ozone removal filter that removes the toxic ozone gas from your rooms.
The ozone emission removal filter comes with a 20-year lifespan and eliminates the dangerous gas from your home to the lowest levels. With one ppb, this filter is 70 times better than the 70 ppb EPA standard.
Also included in the 5-filter system is the bioguard filter. OxyPure uses Electrostatic Precipitation (ESP) filter to capture 100% pollutants in the air. It can even trap the smallest particles measuring 0.09 microns.
OxyPure's technology is unique as we do not have any other air purifier that captures 100% particles with minute sizes of 0.9 microns.
Under the compound filter system, we have the 18/8 Stainless-Steel Pre-Filter. Like the bio guard filter, this one is also washable and recyclable for two decades. Its purpose is to capture larger particles such as allergens and pollutants.
Other great features in this NuWave air purifier include a six-fan speed that ranges from whisper-quiet to turbo. The component is color-coded to alert you whenever your air requires cleaning.
With the sleep mode, you can turn off the gadget lights and noise and speed to allow you to enjoy your sleep. All these functions are possible on your smartphone. The smart app is uncomplicated and convenient.
 Technical Details
Weight: 35.8 pounds
Dimension: 14 x 14 x 26 inches
Filter: 5-filter system
Controller type: Vera
Controller method: App
Coverage: 1000 sq ft
Summary
Breathe healthier air with NuWave OxyPure Smart Air Purifier with a huge purification coverage. This plasma air purifier performance exceeds the industry's standard. It is safe, quality, and a high-performing device. All the controls are right on your smartphone for convenience and comfort. Buy this best plasma air filter and enjoy a 20-year guarantee filter.
2. Winix 5500-2 Air Purifier: Best for Medium Rooms
The WINIX 5500-2 Air Cleaner succeeds the 5500 model. It has a superior design that kills bacteria and catches volatile organic compounds, molds, odors, smoke, pollen, and other common air pollutants.
This new design is perfect for medium to large areas like kitchens, living lounges, bedrooms, offices, and medium to large rooms. You can sanitize up to 360 sq ft which is enough for bedrooms, kitchen, or living rooms.
It comes with a three-stage air cleaning system featuring a reusable Advanced Odor Control Carbon Filter whose efficiency is 99.97%. The filter combines PlasmaWave technology and TRUE HEPA filtration system to offer one of the most efficient and long-lasting air filters.
PlasmaWave is also known for breaking allergens, odor, chemical aerosols, and other substances without emitting ozone. With this sophisticated air purifier, you have a perfect defense against all large particles like pet hair, dust mite, dander, and other impurities.
Most air purifiers produce noise, but WINIX 5500-2 upgrade with a lower noise level is equivalent to 27.8db. The low noise level allows you peaceful learning, working, and sleep.
5500-2 also comes with a sleep mode to ensure low levels at night. In sleep mode, all the indicator lights go off, but the device is still functioning. The gadget has a remote control function to let you operate anywhere, anytime.
It is impressive how this air filter works day and night without consuming much of your power. It uses 70W and is Energy Star certified. The brand is also CARB, AHM CADR certified, and CUL listed.
 Technical Details
Area coverage:360 sq ft.
Measurements: 15 x 8.2 x 23.6 inches
Weight: 15.4 lbs
Power: Lithium polymer battery
Wattage: 70V
Filter change: 12 months
Summary
Clear your allergies with Winix 5500-2 while having a medium coverage area. This plasma air purifier clears dust particles, pollen, and other impurities with this air purifier. 5500-2 is a high-performance, durable, and superior air cleaner with a 3-filtration system. You will enjoy peaceful days and nights with low-level noise with improved living conditions.
3. Sharp Triple Action Plasmacluster Air Purifier: Best for Small Rooms
Sharp Triple Action Plasmacluster Air Purifier is an advanced technology for cleaning your indoor air within 254 sq. ft. area. Its design is an exclusive patented Plasma ion technology that eliminates all microscopic pollutants that other regular filters cannot catch. The cleaning process includes producing bipolar ions (positive and negative ions) from moisture in the air.
With this plasma ionizer air purifier, you have a safe gadget around your living space, which comes with ARB certifications. The device produces less than 0.01 ppm, five times less ozone gas than other ionizing plasma air purifiers. These levels are the lowest in air purification industries.
Plasma Ion Technology works effectively by clustering certain viruses, including viral stimulants like MS2. The technology also binds and eliminates certain bacteria like epidermidis,  E-Coli, Staphylococcus, and Serratia marcescens.  Plasmacluster Air Purifier wipes common molds and fungus, including Aspergillus Niger and Penicillium.
Go for this best cold plasma air purifier if you want an odor-free environment that most conventional filters do not remove. Up to 17 laboratories around the world have tested and confirmed Plasmacluster air purifier effectiveness. The air purifier also meets the FDA, OSHA, and NIOSH federal standards.
Plasmacluster Air Purifier has a smart sensor for automatic operations and fan speed regulation. These function automatically depending on the level of impurities in the indoor air. The unit sensors can detect the most appropriate time for purifying the air and show it on the dust and odor indicator.
No worries about this air purifier's operation cost; TRUE HEPA filters are low maintenance and only require replacement every 2 to 5 years, with the actual filter life depending on the environment.
 Technical Details
Power source: AC
Power cord length: 8.3/2.5 feet
Noise level:26db
Filter type: TRUE HEPA
Filter life: 2 to 5 years
Room size: 254 sq ft
Summary
Breathe clean air all the time in a small to medium room with the Sharp Triple Action Plasmacluster Air Purifier. Plasmacluster has some of the most exciting air cleaning products you can get. AC powered, the unit has 26 decibel noise rating which means it's far quieter than most of its competitors. The company also offers the humidifier option which makes sure that your air is fresh and natural. Their Sharp Triple action fits well in small rooms.
4. Levoit Air Purifier: Best non-UV-C light air purifier
Improve your lifestyle with a Levoit air purifier. Its efficient and robust design gives you fresh air by clearing spores, allergens, pet dander, and large airborne particles. The kit is not only stylish but also compact. It fits in limited spaces in your kitchen, bedroom, lounge, and office space.
You will enjoy the fine details, like the elegantly designed LED display that allows you to operate the kit. The display offers you a variety of options. There is a filter light indicator when the filter wears off and requires a change.
But this is not an ordinary plasma air filter; it is 100% Ozone-Free. Unlike other designs, it does not use UV-C purification processes. UV-C filtration systems are known to produce secondary pollution, including O3, but Levoit does not.
The unit offers a powerful performance air filtration system. It combines 130 CFM/221 m3/h CADR with its white Vital 100, perfect for all your rooms. The area coverage for this stunning air filter is 500 ft² or 46.5 m². All this gets clean in half an hour. If you have smaller rooms,  this filter will cover 300 ft² or 28 m² in just 18 minutes.
Levoit's filtration process involves a washable filter, high efficiency activated carbon, and H-13 TRUE HEPA filter. The high-efficiency activated carbon filters toxic fumes and household unpleasant odors. The filter captures up to 99.97% of all airborne particles with 0.3 microns size and above.
You can sleep comfortably with low noise levels (23 decibels) and turn off the display lights at night. Levoit is user-friendly and convenient. Set the timer as you desire and check the filter change indicator when the filter requires a replacement.
Running this air purifier is not expensive. It is energy efficient and only costs about $1.66 a week to operate the Vital 100 day and night. The 24/7 operations come in handy, especially if you live in highly polluted environments like near factories and roads where gaseous emission is high.
 Technical Details
Product measurements: 8"x 6.4" x 16.1"
Weighs: 9.3 pounds
Filter type: H13 TRUE HEPA, High-efficiency carbon filter, washable filter.
Power source: AC
Area coverage: 500 sq ft.
Color: white
Summary
Enjoy fresh air with a Levoit air purifier. The filter lasts you for up to eight months, is washable, and is replaceable. With this plasma ionizer, you have a highly efficient air purifier that gets rid of your pets' hair, pollen, dust mites, molds, smoke, and any other kind of air pollutants.
5. Invisiclean Claro Air Purifier: Best Uv-C Sanitizer
InvisiClean Claro Air Purifier is a four in 1 True HEPA. The air purifier combines an ionizer, Carbon UV-C sanitizer to eliminate allergens from pets, dust, pollen, and other large and small particles of air pollutants.
This machine comprises an easy-to-use and high-performance medical grade filter. Its H13 TRUE HEPA is 99.97% effective, and the activated carbon filter eliminates cooking and other household odors.
With InvisiClean design, you have an energy-saving plan for your larger rooms. That includes a sturdy design with a low EMF radiation DC motor. The motor comes with four-speed options that deliver double air cleansing output.
Claro is a high-energy efficient air purifier that uses 85% less power than a regular air purifier. This consumption equates to 50 cents monthly consumption if you use the lowest setting.  With this low level, you will still cover 1500 sq ft and one air change per hour.
For 375 sq ft, four air changes per hour are sufficient. The CADR rate is at 200CFM / 340m³/h, which is an AHAM standard. This air filter is also CARB certified for all its California users.
InvisiClean involves a real-time air quality monitor with an advanced PM 2.5 sensor. The sensor detects any changes in air quality and adds or lowers the fan. The fan speed will auto adjust to clear the air quickly and automatically display real-time PM 2.5 levels, temperature, and humidity in auto mode.
Whenever InvisiClean Claro air purifier develops a hitch, you get the company's support. UnivisiClean is a US-based company that has ready 24/7 customer support to handle all your issues.
 Technical Details
Power Wattage: 110V, 60 Hz
Product dimensions: 8.5" x 14.7" x 23.4"
Product weight: 13.25 lbs
Coverage: 1500sq ft
Fans speed: Three speeds plus turbo
Max CADR: 200 CFM (340m³/h)
Summary
InvisiClean is a trusted brand when it comes to designing air purifiers. Buying a Claro air purifier by InvisiClean purifies your home from smoke, dust, pet hair, odor, and other allergens present in your house. With its UV -C sanitization process, you will get a complete backup from airborne pollutants.
6. Instant Air Purifier: Best for Wiping Out Viruses
Treated air removes bacteria, spores, fungi, and 99.9% of viruses, including the coronavirus, which has continued to inflict people with the deadly COVID-19 disease. That is possible through Instant Air Purifier by Instant Brands. The air purifier uses advanced technology known as plasma to guarantee clean air free from pathogens.
The most remarkable feature of this machine that gives you peace of mind is the advanced 3-in-1 filtration system. Instant comes with plasma ion technology that eliminates 99.9% of coronavirus, which causes COVID-19.
It is also a HEPA-13 filter, the type that bonds all large and ultra-fine airborne particles such as dust, pollen, fur, dander, allergens, and other common pollutants.
You're getting a built-in sensors monitor your air quality and automatically modify the fan speed according to your rooms' requirements. The adjustments can be 24 hours a day or seven days a week.
With the air purifier's advanced 3-in-1 filtration system, you also have a carbon layer that filters odors and an active antimicrobial coating that blocks bacterial growth. The coating keeps the filter intact by preventing degradation.
The Eco mode runs the fan on and off after every 10 minutes. That doesn't mean high energy consumption.  Unbelievably, it comes with a 50% energy reduction, plus the gadget is Energy Star certified for efficient purification.
 Technical Details
Item measurements: 6" x 8.6" x 13.5"
Weight: 7.78 pounds
Filter: HEPA-13, 3-in-1 filter
Sensors: built-in
Summary
Sanitize your environment from viruses with this plasma air purifier. Instant removes 99.9% COVID-19 viruses from your indoors and helps protect yourself and your loved ones from this deadly disease. Use this compact air purifier in your office or small business. Buy Instant air purifier for bacteria and a fungi-free environment.
7. Uv Light Sanitizer & Ionizer True Hepa Air Purifier: Best Multi-stage
Azeus UV Light sanitizer and ionizer is a 7-Stage Air Cleaner for indoor odors, smoke, dust, molds, pet dander, pollen, and other common allergens. This effective air cleaner purifies your surroundings and fills your room with clean and crisp air through an international centrifugal wheel system.
The design creates a fast and robust airflow that can clean up to 1080sq.ft in three-quarters of an hour. Azeus beats air purifiers in the market as it removes 99.99% of contaminants from your space.
The air purifier has a 7-in-1 purifications process. This combination includes a HEPA air purifier that consists of a pre-filter. TRUE HEPA filter, formaldehyde, activated carbon, VOC absorber, and formaldehyde absorb particles and kill bacteria.
With Azeus, you also have a combined negative ion generator and UV-C light sanitizer. You can opt to use the ionizer combination or use the UV-C sanitizer only.  Experts highly recommend the Azeus combination for eliminating most air pollutants like fur, dust, mold, odor, smoke, and other allergens.
Azeus comes with an intelligent air quality sensor. This one allows you to stay updated with your air quality. You check the measurements and displays in real-time as they change the color depending on the air quality in your room. Blue means good, green is moderate, and red shows poor quality.
No more buzzing noise at night as the whisper-quiet and the sleep mode are in control at night. At night, the sleep mode creates an ultimately soothing environment and any other time you are working or reading.
This air purifier is low-energy. It only consumes 60 Watts when on high speed. Azeus' lowest setting uses less than 50 cents monthly in electric bills. You have no reasons to doubt Azeus as it is compliant with the CARB (California Air Resources Board) as an indoor air cleaning device. Other certifications include EPA Certified, FCC Certified, ETL Listed, and CE Certified.
 Technical Details
Weight: 12.4 pounds
Power Supply: AC 120V / 60Hz
Size: 13.8×7.1×18.5 inches
Purifier type: UV-C sanitizer and Optional ionizer
Air Flow Direction:360° Aerodynamic Air Intake
Fan speed: three
Summary
Turn on your protection with Azeus air purifier. It is the best cold plasma air purifier with a guaranteed 2000 hours of operation with multiple stages of purification. It is light, compact, and combines UV-C sanitizer with an optional ionizer. Choose Azeus air purifier and upgrade your living conditions with low energy consumption, affordable, high-performance air cleaner.
8. Ivlwe Portable 0.5lb Plasma Air Purifier: Best Portable
If you need a long-lasting air purifier,  IVLWE portable 0.5 LB plasma air purifier offers five years of service life. You will also get a sterilizer, cleaner, and an air freshener, all in a single high-efficiency unit.
This cold plasma design comes in a 99% sanitization rate. It is also an advanced low-temperature plasma that releases ions in just five minutes. After the electrification process, these discharge relevant ions to destroy the structure of odors.
IVLWE air purifier is portable. Its 0.5 pounds weight allows you to use the compact unit widely. You can use it in your pet's house, cabinets, car, or other small rooms as you just require stacking it in an already limited space.
If you love simplicity, then go for this air purifier. It is not the sophisticated type that requires tutorials to operate. It is super easy to use. Additionally, it requires a simple setting to shut down the unit automatically.
A one-start button and an adjustable two-mode are enough to work for a minimum of 3 m³ and a maximum of 30 m³. The unit works for three hours and shuts automatically, plus you can even choose a longer working time by selecting the red light mode.
This IVLWE air purifier does not release ozone into your space. The Nano patent technology is the industry's most sophisticated. It uses an active plasma method to purify your air.
As this unit is battery-powered, it also offers minimal power consumption. With a built-in lithium-ion battery, you have your unit working without a need for electricity. The battery power makes it a travel gadget that doesn't require power cords.
Summary
Make IVLWE portable 0.5 lbs air purifier your travel companion. The air purifier is perfect for your car, hotel room, and other places you may travel and require to grasp fresh air. You can stack this small apparatus in your tiniest room as it does not consume space. Get IVLWE as a gift for your loved ones and improve their living conditions.
9. Air Purifier Plasma + Uv-c Dual Filtratio: Best for Pet Houses and Toilets
This is yet another unique air purifier that combines ionization and UV-C dual filtration technology. Air purifier plasma also brings in the HEPA high-efficiency filtration to eliminate large particles such as dust and pollen from your pet house, bathroom, or other small rooms.
The plasma purification process uses advanced cold plasma filtration technology. This machine is the first to safely eliminate airborne particles, including dust, pollen, and other microscopic contaminants, without emitting ozone. The air purifier does not cause secondary pollution and is thus safe and reliable.
With a UV-C purification unit in your home, you have a robust system with unique UV wavelengths. These effectively eliminate airborne pollutants like smoke, aerosols, and bad smells.
You can breathe fresh air with the dust purification filter. The filter combines a metal filter and HEPA filter to block large particles like air and dander, among other bulky pollutants. Also, the HEPA filter eliminates ultra-fine dust and lasts up to six months before you can budget for a replacement.
No more hassles in your car and other limited spaces; Air Purifier Plasma is portable and compact. If you have a small office, cafe, or hotel room, this is the best apparatus to filter and freshen your air excellently without minding about space.
Air Plasma's dimension does not affect its performance. It has a powerful turbofan that circulates fresh air nonstop for 10 minutes, covering 100 cubic feet.
Aside from fresh air, you can keep away serious health complications with this 4- stage air purification process. The purifier wipes out 99.7% of impurities and removes Total Volatile Organic Compounds, a common automotive pollutant.  In addition, the unit eliminatesPM2.5, a compound known to cause lung damage.
 Technical Details
Speed: three-fan speeds
Noise Level: ≤50dB
Weight: 667 Grams
Dimensions: 17.8 x 6.5 x 6.5 Centimeters
Filters: UV-C Dual Filtration and HEPA High-Efficiency filter
Power: USB
Summary
Free yourself from smoky, smelly, and contaminated air with Air Purifier Plasma. The tiny device will fit perfectly in your most squeezed spaces like your car, pet house, wardrobe, and toilet. This air purifier is not only safe but reliable and high-performance.
What Should Look For Before Buying A Plasma Air Purifier
With a list of nine plasma air purifiers to make a decision, it may be a daunting process for you. This buying guide will save you from the hassle with these factors to consider before selecting an air purifier: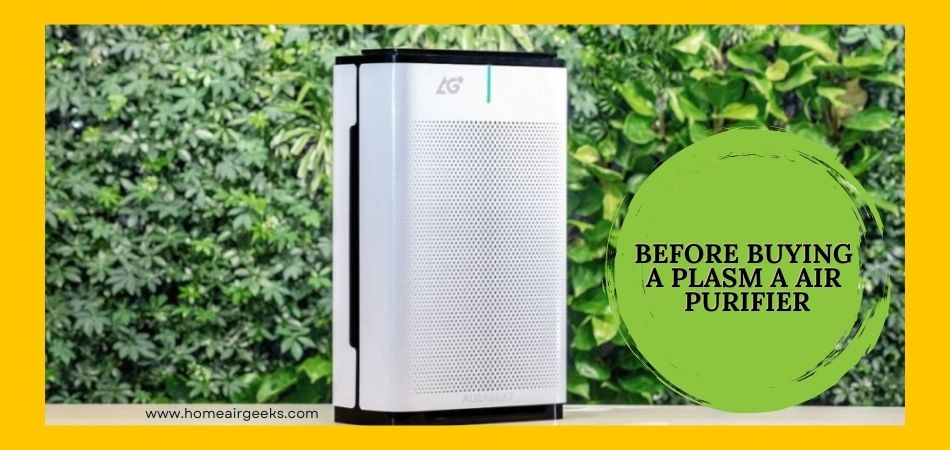 Cost
Plasma air purifiers cost ranges from hundreds to thousands of dollars. The cost depends on the model and the technology each product uses. List down your needs like air freshener, sanitizer, cleaner, et cetera to know what you want in an air purifier. If the budget allows, then go for your dream device.
Size
Size matters most when it comes to space. If you have limited space like a pet horse or toilet, you need a small and compact plasma air purifier.
Filter
There are different filters in plasma air purifiers. Some use three-in-one, five-in-one, HVAC, TRUE HEPA, and many other filters. Make the perfect choice by taking your time to know how each filter functions.
Fan Speed
Fan speed determines how fast your indoor air gets clean. You can also select the speed you require depending on the condition of the room. For instance, a three-speed fan has low, moderate, and fast-speed options.
Noise Level
Choose a low noise level air purifier if you want a peaceful environment. A whispern quiet machine will produce around 20 dBA while a good air purifier that runs noise-free will have around 32 dBA. The standard air purifier noise level can be anything less then 45 dBA. For comparison, a refrigerator usually makes about 50 dBA.
Performance
High-performance plasma air purifiers work excellently to get rid of pathogens, dust, and other particles from your rooms.
Area Coverage
Plasma ranges of air purifiers have varied area coverage. Choose the best plasma air purifier depending on the area you intend to purify.
Frequently Asked Questions
Have more questions in mind about plasma air purifiers before you buy one or about an exising one? Have a look at these questions:
Are Plasma Air Purifiers Safe?
Plasma Air purifiers are safe and work by eliminating common pollutants such as VOC, odors, dust, and allergens from indoor air without producing ozone. Some reduce bacteria, viruses, fungi, and spores from the air, thus reducing allergies and respiratory diseases. They have ionization but don't emit harmful substances like ozone.
Do plasma air purifiers emit ozone?
Plasma air purifiers manufacturers claim that the units do not emit ozone emission. The air purifiers use HEPA filters to cleanse your indoor air. Consumer reports still warn that the plasma ionizing air purifiers use electric charge, which creates ozone.
What is a cold plasma air purifier?
A cold plasma air purifier uses an ionization process to cleanse the air in a room. The process involves emitting negative and positive ions that work by separating and rejoining to bind harmful airborne substances.
How Much Does A Plasma Air Purifier Cost?
Plasma bipolar ionization systems prices vary with the models, CMF, brands, sizes, area coverage, among other factors. Averagely, the cost of a plasma air purifier is between $500 and $5,000 and even above this figure.
Do Plasma Air Purifiers Eliminate Covid-19 Viruses?
Some plasma air purifiers line Instant Air Purifiers can eliminate COVID-19 viruses from your air. They will also cleanse your air off other common pollutants.
Final Thoughts
Finally, we have a complete list of the plasma air purifiers that can reduce airborne pollutants from your home. The devices will eliminate harmful gases,  odor, smoke, and other pollutants from the surrounding air.  Whether you have a small room or a large one, you can pick the right one by following the best use cases we've added.
Our top pick as the best plasma air purifier in the list is Winix 5500-2 Air Purifier. This air purifier is small yet delivers robust air purification with good coverage. Controlling this machine is super easy and as it uses PlasmaCluster technolgy, no airborne pollutant particle will go untreated for sure. With a low noise of only 27 dBA, it will run smooth without disturbing while you're sleeping, reading, or meditating.